Industrial Preservative, XK-601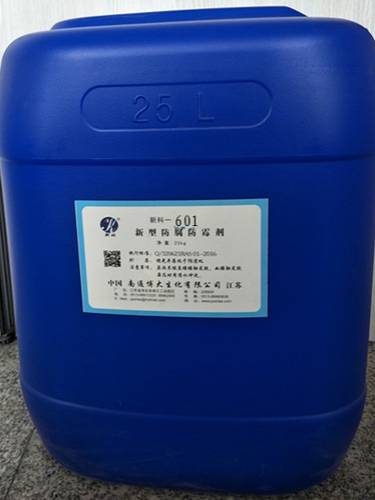 This product is a broad spectrum preservative which has strong ability to inhabit and kill bacteria, mold and yeast. It is applied to the inhibition of bacteria and fungi breeding in aqueous organic systems during the production and storage process. It can be widely used in industrial latex, adhesive, polymer emulsion, metal cutting fluid, grinding fluid, latex paint, cement additive, natural or synthetic latex, etc.
Physical and chemical indicators:
| | |
| --- | --- |
| Appearance | Light yellow or light green transparent liquid |
| Odor | Slight |
| pH | 9~13.5 |
| Density(25℃.g/cm3) | 1.08~1.18 |
| Active matter content | 32~33 |
Features:
1. This product can dissolve in any proportion of water, lower alcohol, ethylene glycol and glycol ether to form a transparent liquid.
2. This preservative can be added to metal cutting fluid concentrate, polymer emulsion, and synthetic latex that it won't lead to demulsifying.
3. It is stable at the temperature range of -10℃ - 93℃.
4. Its applicable range of pH is 5-13.
5. This product has long-term sterilization ability and won't cause drug resistance for general organisms. Due to it is low toxic, biodegradable, and without formaldehyde, it injures slightly to the environment.
6. It is alkaline fungicide that it will have better sterilizing effect in the environment of pH 7-13.
7. This product has the ability to kill various bacteria, molds, yeasts. The general recommended dosage is 0.03-0.25% (W/W) which should be adjusted according to products you applied to. For using this product, directly put it into materials and stir evenly is Ok.
Packaging:  25Kg/barrel,In usual environment, it should be stored in closed container.
Notes: Pay attention to personal protection when using it. If your skin and mucosa inadvertently contact with it, rinse the contact position by clear water immediately.
Nantong Boda Biochemistry Co., Ltd. specializes in producing preservatives, fungicides, and pesticides for a wide range of daily products. Formerly Xinke Daily Chemical Co. and established in 1999, our company was renamed Nantong Boda Biochemistry Co., Ltd. in 2003. The same trademark, "XK," is still used. The XK brand is well-known and favored by international manufacturers in the fields of cosmetics, construction, home decor, water treatment, textiles, cleaning products, and paper. Our main products--wood protection and kathon-based preservatives--are widely used in many countries, and the feedback from our clients is universally positive. Our products kill and inhibit the growth of bacteria, mildew, and fungi, so your products can remain fresh for extended periods of time.