Industrial Preservative, XK-03
XK-03 industrial preservative kills and prevents the growth of mildew and a variety of bacteria in paint, dry film, adhesives, paper, and leather products.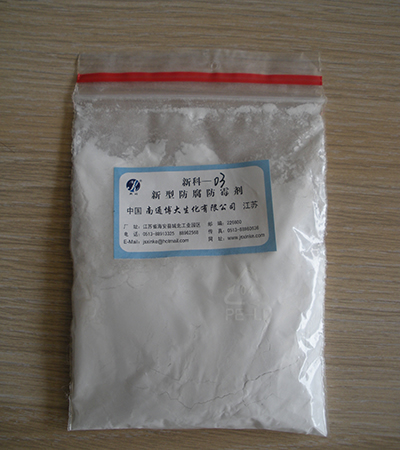 Chemical composition: carbendazim mixture
Usage
Antisepsis of latex paint (0.2%~0.4%), fungicide of dry film (1.0%~2.0%), leather and synthetic leather (0.5%~1.5%), coated paper (0.5%~0.8%), canvas, cloth and paint paper (0.8%~1.2%), adhesives (0.5%~1.0%).
Features
1. Safe, effective, broad-spectrum. 2. Resistant to acid, alkali, light and heat.
3. Good stability.
Solubility of XK-03 Preservative
Though insoluble in water, the fungicide for paper will dissolve in organic solvents such as xylene, cyclohexanone, and dimethylformamide.
Physical and chemical features
| | |
| --- | --- |
| Items | Indicators |
| Appearance | White crystalline powder |
| Odor | No special odor |
| Melting point ( ℃ ) | 250 |
| Storage | Dark, cool place |
Notes
Users should protect against contact with skin and eyes. If the preservative does touch skin or eyes, rinse immediately with water. Dosage will change depending on product and temperature.
Nantong Boda Biochemistry Co., Ltd. specializes in producing preservatives, fungicides, and pesticides for a wide range of daily products. Formerly Xinke Daily Chemical Co. and established in 1999, our company was renamed Nantong Boda Biochemistry Co., Ltd. in 2003. The same trademark, "XK," is still used. The XK brand is well-known and favored by international manufacturers in the fields of cosmetics, construction, home decor, water treatment, textiles, cleaning products, and paper. Our main products--wood protection and kathon-based preservatives--are widely used in many countries, and the feedback from our clients is universally positive. Our products kill and inhibit the growth of bacteria, mildew, and fungi, so your products can remain fresh for extended periods of time.